I originally heard of Kristine Ong Muslim when we shared a table of contents.  I no longer recall the publication, but it may have been one of the Sam's Dot titles.    She is as much a poet as she is a fiction writer.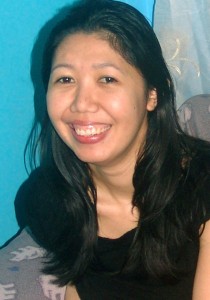 For somebody unfamiliar with the work of Kristine Ong Muslim, how would you describe your work, and which story and which poem do you think are the best introductions to your work?
I write all sorts of stuffs – stories and poems that end up in the most lurid of zines (complete with ads for S&M paraphernalia) to the classiest of publications (Boston Review, Narrative Magazine, etc.). My story at Birkensnake is not one of my favorites but I've gotten several emails from people who like them. So I guess it is a decent piece and is representative of my general writing style. My quintessential favorite is actually this story. As for poems, here are the ones from Amethyst Arsenic and my Conrad poems (patterned after the quirky "Frank" poems of the remarkably talented CA Conrad).
Much of the world's marketplace for speculative fiction resides in the United States. You are Filipino, and if I'm not mistaken, you live on the island of Mindanao. Being in the Philippines must present you with some challenges in terms of getting your work read and published, and being far from Manila must certainly amplify those challenges. How did you get started, and how did you manage to build a portfolio of published stories and poems numbering in the hundreds?
I don't consider the geography part as a challenge. I even liked to be isolated, cut off from writing fads and their fancy genre labels. Nowadays, the internet makes that impossible. But I've grown a lot as a writer because of that. I read the work of other contemporary writers and learn from them.
I can't remember how I started and what made me decide to send out stories to the slush piles of the world. There were no email submissions during the time I began to write stories and terrorized North American editors with my horrendous early writing efforts. I remember sending a typewritten story about a magic mushroom to Gordon Van Gelder, the dumbest knife-wielding serial killer story to Gordon Linzner, and to so many editor-victims of my atrocious stories. I remember paperclipping those IRCs to the manuscripts. I was a teenager then; I had the writerly sense of moldy bread.
I'm an introvert who spends a lot of time reading, watching movies, and writing. That's why I amassed such output. As soon as the day job is done, all my energy then revolves around my solitary writing life. All the friends, boyfriends, and acquaintances I had over the years consider me as an emotionally detached nut. I think writing is the only thing that I'm passionate about. The writing life is a lonely one, but it's never sad. Every day, there's something fascinating to see, hear, read, or write about.
Do you ever write in Tagalog or other Filipino dialects, or is your work strictly in English?
I write strictly in English. Unfortunately, my Filipino is not of writing/publishing quality.
To date, which published piece makes you the most proud?
It's not a single piece but a full-length one. Writing the bulk of We Bury the Landscape is one hell of a writing experience. Making up stories about different paintings is outlandish to an extent, but I'm quite proud of what I've created. When Queen's Ferry Press accepted it and I had to withdraw the manuscript from other publishers, an established (since Queen's Ferry is still fledgling with only a couple of books out) British press expressed some interest. I realized that the book had an appeal of some sort. All in all, I was very, very satisfied and impressed by the editorial direction of Erin Knowles McKnight. She re-titled it (the original title was Imagine) and made some splendid changes that I would never have thought of introducing into the manuscript.
Your name is an interesting juxtaposition of several cultures, with Kristine being a western name, Ong chinese, and Muslim is, I assume, Islamic in nature. There must be an interesting story behind the name.
That's right. The last name, well, I think it's something that my father's father just made up. I know, it's funny how he never thought of choosing something "wholesome" for a last name. Most of my father's brothers use different last names. My mother is Chinese and my father is Muslim, and everybody in the family belongs to a different religious denomination. We kind of get along pretty well because nobody imposes on each other's beliefs. I grew up in a "liberal" environment that conforms to feng shui. There's a Catholic. There's a Fundamentalist. There's a Baptist. There's an Islam. As for me, I'm sort of between the rock of hell and a hard place — not an atheist but not quite there yet in the spiritual department.
In terms of your writing career, have you experienced any bias or prejudice against your work based solely on the name on the manuscript, and do you think you might have had more success if you published under another name–Kristine Ong, for instance?
Writing-wise, I've never encountered any biases from editors, publishers, and other writers. For a long time, I've been submitting and getting solicitations from different editors – not one of them cares about my name. I don't think any editor would care about an author's name. I get accepted when the piece is good and rejected when it is not. As for readers, I think I've got a fair share here on the comments section. Fortunately, being discriminated is not something that bothers me. The bitterness goes away in less than ten seconds. I've got a comfortable "inner life" to fall back on. When I was still working in a normal office scenario in Cebu City, I get the occasional snide remarks. They're never funny, but I can't fault people for their prejudices; everybody is entitled to one. A long time ago, I worked in Manila for a year and had some of the worst experiences there from coworkers. Some of them from people who were, let's say, not too bright and were probably raised in the slum areas of Metro Manila. Funny, but I remember even feeling sorry for them. I've got a nice apartment in the outskirts of Manila, a long commute from the place where I work in Makati. My friends come over and have fun. I have my books and my writing and my solitary walks. I have a nice life outside of my day job so getting worked up on any negativity is pointless. It's just a last name.
What are the projects you have coming up in 2012 that get you the most excited?
Grim Series is forthcoming from Popcorn Press in January. We Bury the Landscape in April. I also have two print chapbooks forthcoming from the small presses. Recently, I have a manuscript solicited by a respected North American genre publisher. The editor is also a writer whose work I worship. Because it is solicited, then I'm probably against a few other writers for consideration. I hope he offers me a book contract. If not, then I'm still happy as ever because he asked to see a manuscript from me. I'm working on a lot of things right now, a novel hopefully.