Beth Cato lives in the same metropolitan area as I do, though on the far opposite end.  As it turns out, we have never met in person.  I met her through Codex Writers Group.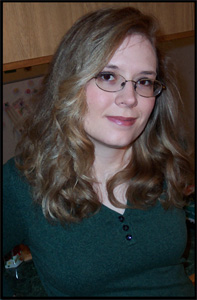 For somebody unfamiliar with the work of Beth Cato, how would you describe your fiction and which story do you think is the best introduction to your work?
I tend to write about ordinary people thrown into impossible
situations. I aim for the gut, for those deep emotions and fears that
we avoid unless we're forced to face them. Maybe that's a reason why I
write so much about the apocalypse. Nothing brings out the truth of a
person like the end of the world! One of my stories on this theme is
"A Dance to End Our Final Day," over at Every Day Fiction.
(http://www.everydayfiction.com/a-dance-to-end-our-final-day-by-beth-cato/)
You are married to a veteran military person and moved around quite a bit. How did you end up settling in the Arizona desert?
My husband, Jason, was a reactor operator in the Navy and served on
the USS Abraham Lincoln. When we decided to go the civilian route,
that path lead us to Palo Verde Nuclear Generating Station, to the far
west of Phoenix. He's been an operator there since 2007 and now has a
federal license. And no, Jason doesn't glow in the dark.
We have a similarity in that you and I both used flash fiction as a tool to hone our skills.  You still enjoy writing very short fiction. What is it about this form that you find so attractive?
I like how flash cuts right to the emotional crux of the story. It
doesn't need a big cast of characters or a convoluted arc. Some people
think that means flash fiction is simple or easy, but it really isn't.
You can delve pretty deep in a thousand words, but every word needs to
serve a purpose.
Would you recommend flash fiction as a tool to help anyone struggling with writing long fiction?
Absolutely! Especially if someone rambles as they write, as I do in my
rough drafts. If you have to force a 1,700-word story to under 1,000,
the delete key becomes your best friend.
You have also written quite a lot of non-fiction, much if it published in the Chicken Soup for the Soul series of books.  How did you become involved with that franchise?
I had seen the books around for years and knew they were huge sellers.
When I decided to start taking my writing seriously, I wanted some
decent credentials for my biography paragraph. Chicken Soup always has
ongoing calls for material, so I began to send in submissions. These
books are very competitive to get into–some get as many as 5,000
submissions, and they choose 101 stories. I feel very lucky to have
gotten into at least a book a year for a few years now.
You recently acquired an agent. What do you like about being agented and do you find anything restrictive?
There are a lot of things I like about being agented. Rebecca
[Strauss, of McIntosh & Otis] is a huge support for me. She loves my
book, and even after being told that over and over for months, that
still awes me a bit. She's also looking at my long-term career. We
talked on the phone just last week about my writing plans for the
first part of 2012. As for restrictions, there are things we don't
agree on. But that's okay. Really scary sometimes, but okay. We talk
things out. As with any partnership, you have to listen, and there is
give and take.
What projects do you have in the works or in the planning stages that get you excited?
I'm really excited about the steampunk novel I recently completed.
It's a secondary world fantasy featuring airships, terrorists, and a
prim-and-proper healer who is in way over her head. Everything flowed
as I wrote it, and now I hope that readers find it as enjoyable.