today we're having a discussion with Christopher Kastensmidt, a spec fic writer who lives in Brazil.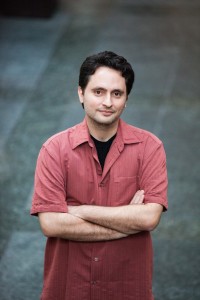 For somebody unfamiliar with the work of Christopher Kastensmidt, how would you describe your fiction and which story do you think is the best introduction to your work?
A lot of my work contains fantastic elements, and I've bounced from one end to the other of that genre (historical, mythical, comic, urban, children's, sword & sorcery). I've meandered through other areas as well: surreal, science fiction, slice-of-life, pseudo-essay, poetry.
My principal work to date would be "The Fortiutous Meeting of Gerard van Oost and Oludara", a historical fantasy first published in Realms of Fantasy. It is set in sixteenth-century colonial Brazil and combines ample amounts of historical research, adventure, humor, and my own life experience–elements which pervade my other works.
How did you manage to find yourself living in Brazil?
I get that question a lot. Back in the 90s, I worked as an engineer for Intel, providing technical consulting to software companies around the world. I picked up Brazil as one of my regions, and along the way met a start-up of four game developers in southern Brazil. Their work impressed me so much that I ended up leaving Intel to join them! Ten years and thirty published games later, we sold the company to Ubisoft.
How has living a significant time in more than one culture impacted your fiction?
Living in a different culture pervades every part of life. The way I speak, think, and act have changed so radically over the last dozen years that it's hard for me to remember who I was before. I highly recommend living abroad for gaining a new perspective on life.
So, obviously, that comes out in my fiction. Also, it has provided me with another world to draw on for inspiration. I say "world" instead of "culture" because there is so much more there: history, mythos, politics, relationships, and all the rest are different down here. All that is a huge addition to the toolbox.
How does your technical background (hardware AND software!) influence your fiction?
I'm not sure how much my time as an engineer influenced my fiction, but the time I spent in the entertainment industry (mostly in video games) greatly impacts the way I tell stories. First, I understand that prose competes with other media, and I don't mind tweaking my style for the modern reader. I also tend to embrace other media in my storytelling. Prose is not the ideal form for every story–some are best told with comics, others with games, others with film, etc. I spent years studying the ins and outs of visual and interactive storytelling, and I'm not afraid of jumping from one medium to another when the story compels it.
What writers have been the most influential in forming your particular style?
Fritz Leiber, Alexandre Dumas, James Clavell, John Kennedy Toole. Also, not so much individual authors, but many myths and fables: Greek mythology, Norse mythology, Brazilian folklore, Robin Hood, King Aurthur. Looking more amply, a host of poets, movie directors, comics artists, video game developers, and others.
Tell us a little about The Elephant and Macaw Banner.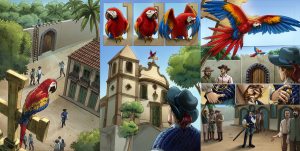 The Elephant and Macaw Banner is the world that came to life as I wrote "The Fortiutous Meeting of Gerard van Oost and Oludara". I delved into Brazilian folklore and history to write that story, and as the characters took life, I realized there was much more in that world to tell. Once again, this was partly an effect of my way of thinking as an entertainer or storyteller instead of as an author.
So The Elephant and Macaw Banner has become a world unto itself, filled with magical creatures and a host of characters drawn from the spectacular convergence of cultures which occurred on the Brazilian coast in the sixteenth century. I've already published three novelettes in several languages, and a novel and graphic novel are on the way. I publish news, artwork and notes on the world at EAMB.ORG.
What other projects do you have in the works or in the planning stages that get you excited?
I'm involved in the early stages of two projects for children, both of which tell stories through multiple media. It's still too early too tell how far those projects will go, but the possibilities are tremendous.
And please allow me to say thanks, Rick, for this interview! It's been a pleasure.