Today we're chatting with Lon Prater. He is a retired naval officer, and I've known Lon virtually through Codex since 2005.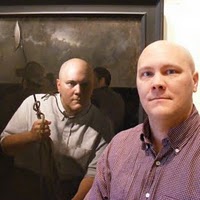 For somebody unfamiliar with the work of Lon Prater, how would you describe your fiction and which story do you think is the best introduction to your work?
My stories tend to fall into two main categories. What I write most often are dark pieces tinged with sadness such as Head Music and A Road Like This, At Night (both appear in my road trip themed ebook collection Roads Like These). The other trend that predominates in my writing is a tendency toward allegory and adaptation. I see unexpected connections between landmark historical and literary events, and can't help but write about them. Elderly Mark Twain versus Teddy Roosevelt in an adaptation of the play A Man For All Seasons? That's The American In His Season. A mashup of The Island of Doctor Moreau, set a hundred years later on an island where an Ayn Rand-like figure has faked her death and set up shop? That would be The Island of Jayne Grind.
You recently retired from active duty in the military. How did this impact your writing?
I thought it would afford me more time to devote to it, once the relocation and job hunt were complete. What actually happened is that my yearly output has dropped about 10%. I do feel like I've reached the point in my development where I feel that more of what I write is fit for readers and have a better sense of my own capabilities as a writer. Perhaps in the big scheme of things, my efficiency has improved enough to make the drop in output a wash. I haven't spent as much time on promotion and submissions either. Part of this is simply that my work life as a civilian hasn't been as orderly and regimented as my military career. But another part is that my life has become more full of good things, and who can complain about that?
How often do you leverage your military experience for your fiction?
I was in the navy from the age of 17 to 39. It shaped my whole life, not just my writing. Half my career I was an enlisted sailor in nuclear reactor plants of aircraft carriers, then moved into the logistics field as an officer for the second half, but spent much of my sea time on the bridge and in the Combat Information Center of a large amphibious assault carrier. The enlisted nuclear power experience prepared me for understanding highly technical material and figuring out how to present it for easier understanding. Not only that, but I learned a lot about how people deal with the loneliness of deployment, with boredom, with being powerless in the face of a nonsensical bureaucracy. Visits to foreign ports sparked my love of exploration and learning about other cultures and histories. As an officer, I became privy to the bigger picture, in terms of operations, diplomacy, and what it feels like to be the one on the hook to make true life or death decisions. There were times–with mines sighted in the water, or low flying aircraft that would not respond to radio, or leading a repair party in the part of the ship most likely to be struck by inbound missiles–that I learned what it meant to feel the fear, to know how easily my shipmates and I could be dead in the next ten minutes and then carry out orders anyway.
No matter where my travels took me, I built a habit of exploring and learning about the local history and customs. I feel that habit gave me a broader perspective no just to write from, but to live from.
Do you consider winning the Writers of the Future contest to be a major accomplishment in your writing career?
Absolutely. I had already made my first pro sale (Head Music in Borderlands 6) when I got word about appearing in Writers of the Future, but that event sealed the deal for me; the first sale hadn't been just a fluke. The workshop was an incredible value that I would not have otherwise been able to afford and I really do feel like it gave me a powerful head start as a published newbie. Also, I had not been to a convention or any of the common events where fans mingle before this time so it was in many ways, the beginning of my public life in fandom. I made friends at Writers of the Future who I still check in with to this day. The odds against placing a story in Writers of the Future are enormous, but the benefits are incredible. I will always consider that week in Seattle as one of the best in my life.
We hear so many stories of WoTF winners that disappear. They stop writing. Why do you think that happens?
I think there could be a lot of reasons for this. One is that they've scratched the itch to publish, or to say that one thing they've been burning to say. I suppose this is the most likely. Another reason would probably be that they come face to face with the realities of a writing life and realize how much hard work and rejection it really is, once the big tuxedo ceremony is over. Family and Career loom large. The realization that this is something most people do in addition to a day job makes them re-evaluate their priorities.
Perhaps they become daunted by the idea of living up to their own success, or feel like they did not really belong in that room full of Award-winning writers, and so handicap themselves out of the game.
I don't know if it's fair to say they stop writing and disappear though. I think that many just have a slower "recharge rate" between stories, or maybe they switch genres. I bet we'll hear more from them in time. The contest identifies talent for storytelling and it's a rare person who can let any kind of talent lie fallow the rest of their lives.
What else do you use your time for when not writing?
Reading and listening to audiobooks is a daily event, though I despair of ever feeling like I've caught up to all the good things I want to read. I am a fan of card and board games, everything from traditional stuff like Rummikub, Texas Hold Em and Hand and Foot (a canasta variant) to more modern experiences like Settlers of Catan, Fluxx and Ticket to Ride. In odd moments, I have been working on the rules and card wording for a slasher movie themed card game. I live close to the beach, so I like to put my stunt kites in the air, especially in the spring and fall. Honestly though, the bulk of my time is spent on work or family commitments, and even while I am engaged in those things, there's a part of my brain that is constantly thinking about something to do with writing.
What writers have been the most influential in forming your style?
I take little bits from all over. I think Howard Waldrop would be right near the top of the list here. I adore his riffs on established cultural icons and how he is able to make absurd juxtapositions work like they were meant to be together. Elizabeth Moon (The Speed of Dark) and Elizabeth Hand (Generation Loss) opened my eyes to the things you can do with voice and the power of writing from the perspective of a frequently disenfranchised viewpoint character. I've written many stories that nod at Arthur Machen and H. P. Lovecraft's themes and fiction–despite never having been a fan of the turn of the century prose style. Tim Powers taught me the value of teasing the speculative story out of real history. Octavia Butler captivated me the way she puts so much mood into her settings and background detail. I like Mark Twain's sly, witty voice a lot (enough to use him as a protagonist not once, but twice). F. Paul Wilson's entire oeuvre and Bob Mayer's Area 51 series both taught me a lot about keeping the story moving and maintaining suspense. I've picked up bits about interior monologue from Stephen King novellas. Directly or indirectly, I feel like many of my stories have been influenced by the voice or spirit of things I've read and loved by Jules Verne, Ken Scholes, Earnest Hemingway, Mary Robinette Kowal, Caleb Carr, Anne Tyler, Mark Twain, Stephen King, Flannery O'Connor, Susan Cooper, Mickey Spillane, Octavia Butler (again), Samantha Henderson, Tobias Buckell, and Doug Lain's collection Last Week's Apocalypse.
What projects do you have in the works or in the planning stages that get you excited?
The thing I'm most excited about right now is the debut of ALAMO RISING at Worldcon San Antonio later this year. Co-written with Josh Rountree, this novel pits a ragtag band of former Texas Rangers and tough as nails cowgirls against shapeshifting Comanche, British steam-power from the California Colony, and the undead hordes of a risen and vengeful Lord-Presidente Moctezuma. One of the things I'll be able to talk more about soon is an EP album from steampunk artist Escape the Clouds which was inspired by our novel.