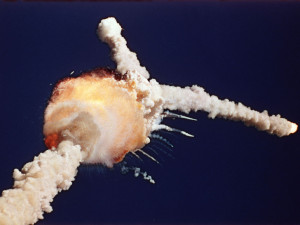 Where were you thirty years ago today? That's the day the space shuttle Challenger exploded a minute and 13 seconds into the mission, killing all seven astronauts aboard. The seven were Mission Commander Francis R. Scobee, Pilot Michael J. Smith, Mission Specialist Ellison Onizuka*, Mission Specialist Judith A. Resnik, Mission Specialist Ronald E. McNair, Payload Specialist Gregory B. Jarvis, and Payload Specialist/Teacher in Space S. Christa McAuliffe.
The cause of the disaster was ultimately determined to be from the failure of both primary and secondary o-rings on the right solid rocket booster. This point 73 seconds into the launch is a phase that puts an enormous amount of physical stress on the shuttle, though after 30 years and an unsuccessful research effort, I am unable to recall the details.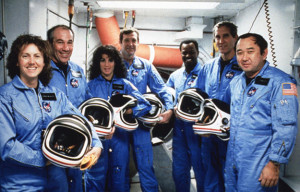 My recollection is that it involves some maneuvering that puts stresses on the solid rocket boosters. If anyone knows the details, I'd appreciate putting them into the comments.
On this day, I was in the Lambda Chi Alpha fraternity house in Whitewater, Wisconsin. One of the guys came running up the stairs screaming, "The space shuttle just exploded!" We were teasing him because of some events the previous evening, and initially thought it was a continuation. We soon realized he was serious and we all gathered around the television to see the news.
It was a shocking and disappointing day, to say the least. I was in my third year of college and majoring in physics. Our department felt the disaster more than most, since the scientists aboard the doomed shuttle were our brethren, killed in the line of duty.
I was only 2 years old when Gus Grissom and his crewmates died when Apollo 1 exploded on the launch pad, so this was the first real experience I had witnessing just how dangerous strapping people to the top of a huge bomb really was. When you think about how often we launch things into space, it's pretty amazing we can do it at all. The track record for successful launches is pretty darn impressive.
I just wish it were three missions more successful (Apollo 1, Challenger, and Columbia).
*Years later, I worked inside the famous (and now defunct) Blue Cube that became part of Onizuka Air Force Base, (also now defunct).