An Eagle Scout
On March 17, we held a ceremony to formally present the rank of Eagle Scout to my son, Russell.
I realize some of my circle of friends take issue with the Boy Scouts of America, and for good reason, but this isn't the right time for that discussion. I'll be posting specifically on that issue in the near future, but I'll leave you with the thought that the organization as a whole does far more good than harm. Today, I want to focus on one young man and spotlight the good he did on his way to this difficult achievement.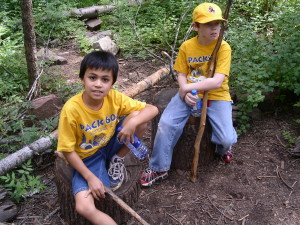 My son started in Cub Scouts in the first grade. He continued through the ranks and earned the highest rank in Cub Scouts, the Arrow of Light. After that, he crossed over into Boy Scouts, following his first cubmaster into the troop where he had become the scoutmaster. That turned out to be a terriffic move, because that troop is one of the best run, truly boy-led groups I have ever seen. There have been over 40 Eagle Scouts over the ten year history of the troop. For perspective, about 4% of all boys entering scouts ever achieve the rank of Eagle, so this troop has an outstanding record, and it's almost entirely the boys motivating each other and Eagles paying forward to the younger boys.

It's wonderful to observe boys entering a troop in the fifth grade, undisciplined and rambunctious, and then watch them mature while taking on leadership roles, emerging as fine young men. My son was no different, but he did make some very good decisions before he turned 12. To reach the rank of Eagle Scout, a boy must earn 21 merit badges, including several required merit badges, essentially proving an understanding of some valuable life and leadership skills.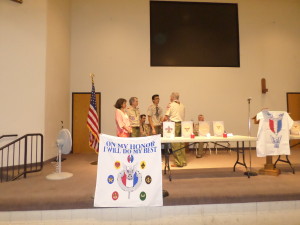 The boy must earn 21 merit badges, including the following. (Anything separated by | represents "or.")
First Aid, Citizenship in the Community, Citizenship in the Nation, Citizenship in the World, Communication, Cooking, Personal Fitness, Emergency Preparedness|Lifesaving, Environmental Science|Sustainability, Personal Management, Swimming|Hiking|Cycling, Camping, Family Life.
This amounts to training to be a well-rounded person. Some of those merit badges take a long-term (3 or more months) commitment of activity or record-keeping. Those good decisions I mentioned earlier involved Russell tackling some of the more ambitious merit badges while he was still quite young. Personal Management, Personal Fitness, and Family Life are all long-term committment type merit badges that derail older boys and keep them from achieving the rank of Eagle. Russell attacked all of those merit badges before he turned 12, so when the teenage distractions outside of scouts came along, he didn't have to worry about those.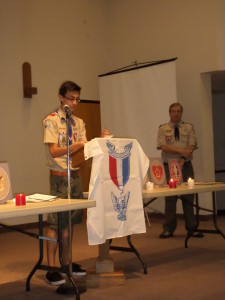 What he did have to worry about was the eagle project. This requirement is unique to the rank of eagle. A boy must plan and execute all phases of a community service project involving significant challenge and a certain minimum person-hours. Russell's project assisted Arizona Game and Fish. His project cleared considerable brush away from two ponds where Game and Fish are repopulating the endangered Desert Pupfish. The project had an unusually heavy load of paperwork to allow his volunteers to work with the endangered species, and the project was well out of town in a restricted-access area.
His project was successful, and Game and Fish were very pleased with the newly-created access points to help with maintaining the population and the health of the ponds. After the project is completed, a boy must write it up and finally face a board of review at the district level. All ranks have a board of review, but only eagle uses a panel of people the boy has never met. Each boy brings people from his own troop, and those people sit on the board of another boy, along with one district commissioner. At the end of that board of review, the boys are officially eagle scouts. Russell earned his on September 11, 2014. We waited until March 17, 2015 to have the ceremony because his grandparents wanted to attend.
It's an incredible accomplishment that really is deserving of the attention. Congratulations, Russell. We're all very proud of what you have done.